The Amgen Foundation
The Amgen Foundation is an integral component of Amgen's commitment to dramatically improve people's lives. Established in 1991, it seeks to advance excellence in science education to inspire the next generation of innovators. The Amgen Foundation places a strong emphasis on strengthening science education and is committed to investing in meaningful, evidence-based initiatives that make a difference at local, national, and international levels.
Inspiring the innovators of tomorrow in the UK and Ireland
In the UK and Ireland, the Amgen Foundation offers two programmes: the Amgen Biotech Experience and the Amgen Scholars Program. It also helps to support free online education platforms, such as LabXchange and the Khan Academy .
The Amgen Foundation has helped to make the excitement of science and the promise of education more accessible. Its goal is to support initiatives that will have a lasting positive impact on the futures of teachers and students.
The Amgen Foundation believes that the solutions to humanity's biggest challenges—from healthcare to the environment—will be tackled by future scientists.
These programmes aim to advance excellence in science education and inspire the next generation of innovators. This is achieved by providing students with real-world lab experiences, access to high-quality content, and supporting science teachers to enhance their skillset.
Amgen Biotech Experience
The Amgen Biotech Experience (ABE) is an innovative science education programme that empowers teachers to bring biotechnology into their classrooms.
For over 30 years, it has empowered secondary school science teachers to implement real-world biotechnology labs, with nearly 1 million students around the world having experienced hands-on education through ABE because of the Amgen Foundation's over $50 million commitment to the program.
At its core, the Amgen Biotech Experience is a science education program which builds bridges between secondary schools, industry, and academia, enabling teachers to implement real-world, hands-on biotechnology labs in their classrooms at no cost to them or their school.
The research-grade equipment loan as well as curricula and training provide the opportunity for students to engage in hands-on experiments that would otherwise remain beyond reach for many schools.
Launched in the UK in 2011, ABE is currently run in collaboration with the University of Hertfordshire and has reached nearly 28,000 students and 500 teachers across 132 schools. The Amgen Foundation has invested more than $1.5 million in this programme in the UK alone.
In Ireland, ABE has been running since 2014 in collaboration with University College Dublin. With an investment from the Amgen Foundation in excess of $950,000, the programme has reached more than 19,000 Irish students and 185 teachers across 146 schools.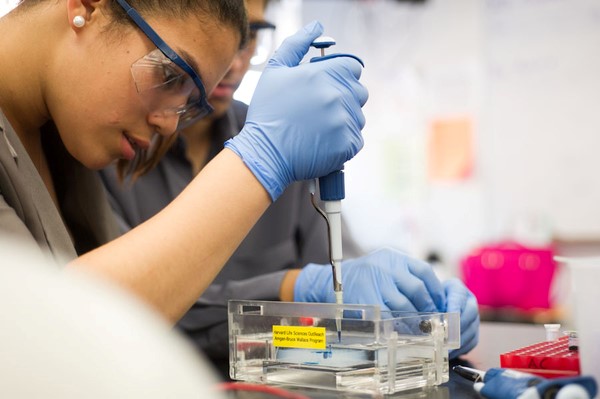 Close collaboration with LabXchange has also enabled the development of a collection of free, virtual biotech resources designed to complement and build upon the ABE program's Exploring Precision Medicine curriculum, further extending the reach of the ABE program by ensuring that online resources are available to all teachers and students worldwide.
Learn more about ABE by visiting AmgenBiotechExperience.com . To learn more about the Amgen Foundation's other science education programs, visit AmgenFoundation.org
Amgen Scholars Program
The Amgen Scholars Program provides hundreds of undergraduate students around the world each year with the opportunity to experience working in a lab alongside top scientists on their own research project.
In 2023, the European Amgen Scholars Programme hosted 99 undergraduates from 53 different academic institutions across 20 countries. Globally, the programme also operates in the U.S, Asia, Canada, and Australia. First established by the Amgen Foundation in 2006 in the U.S., the Amgen Scholars Programme is now a global $74 million initiative. Hosted by 24 leading educational and research institutions from across the world, the program has supported more than 5,300 students to date.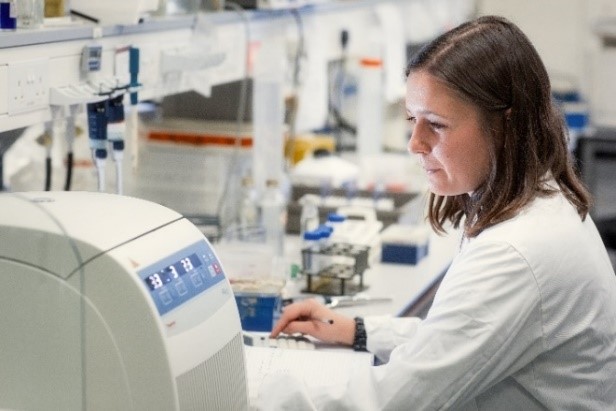 Offering financial support for students, the programme also seeks to ensure that eligible students, regardless of their financial status, can participate.
Since 2009, nearly 600 students from England, Scotland, Wales, Northern Ireland, and the Republic of Ireland have participated in the program.
Mentored by some of the world's leading research scientists, each year, successful applicants gain hands-on lab experience and learn to collaborate effectively in a research setting, investigating areas of interest within a specific discipline.
Through analysing data, presenting their research, and attending various networking events, Scholars gain skills and knowledge that will help shape their future careers, whilst contributing to the advancement of science.
A highlight of the Amgen Scholars Program is the European Symposium, hosted by the University of Cambridge. It brings together students from across the five European host institutions for three days of knowledge sharing and learning from academic scientists and people working within industry. Amgen staff also benefit from attendance at the symposium, participating in keynote speeches and roundtable discussions aimed at developing the scholars' understanding of the biotechnology industry and the opportunities within it.
Learn more about the Amgen Scholars Program by visiting www.amgenscholars.com